It's the most magical time of the year! And Port City Nissan has been looking forward to the annual Strawbery Banke Skating Rink. Since 1979 the Strawbery Banke Museum has been showcasing 350 years of holiday and seasonal traditions. It takes place against the backdrop of the furnished historic houses that are part of the museum. All of us here at Port City Nissan are excited to tell you more of the details, specifically the rink.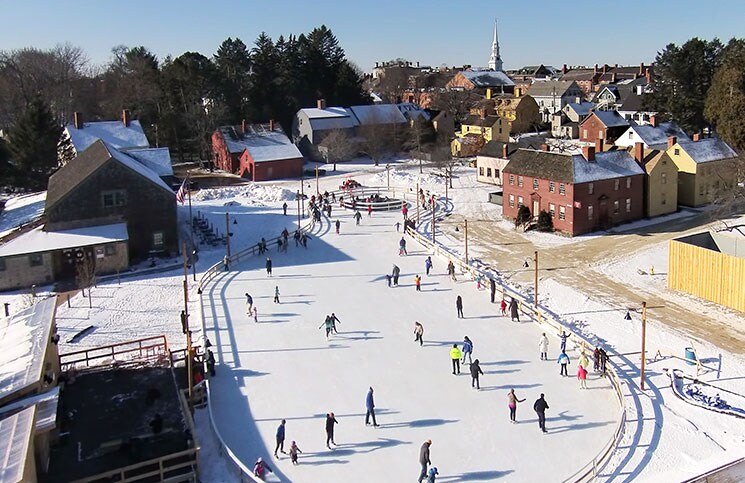 Puddle Duck Pond
We can thank The Labrie Family for the outdoor skate rink. This year it opened for its fourth season on November 29th. As of November 30 it will be open daily from 9 a.m. to 9 p.m. Hours will be shorter on Christmas Eve and the rink is closed on Christmas Day. As offered in the past thanks to a sponsorship by the Portsmouth Rotary Club and The Rusty Hammer. The rink is open to anyone who purchases a Stroll-Skating ticket. Make sure to check the Strawbery Banke website and Facebook for the weekly schedule.
Figtree Kitchen at the Strawbery Banke cafe has you covered if you get hungry. They offer seasonal beverages and food in the TYCO Visitors Center. Both the rink and Figtree Kitchen café are available for corporate events, outings, birthday parties and other private parties.
Ticket Pricing
Off-Peak Hours - Children $6 and Adults $8
Peak Hours - Children $9 and Adults $11
Skate Rentals - $5
Strawbery Banke Museum members - 50% off ticket pricing
Active Duty Military & Families - FREE admission
Veterans - FREE admission
The Holidays Are Best At Port City Nissan
Did you know that Portsmouth is called "the Christmas capital of North America"? Pretty cool if you ask all of us here at Port City Nissan! Just as cool as coming to see us at Port City Nissan for an extra special present this year. We look forward to seeing you soon!
Port City Nissan
120 Spaulding Turnpike
Portsmouth, NH 03801
Phone: 877-659-7701
Website: https://www.portcitynissan.com/
Source: http://www.seacoastonline.com/news/20171127/strawbery-banke-skating-rink-set-to-open-for-season