Port City Nissan has always wondered when The Jetson's will become a reality. With the looks of Nissan's latest electric vehicle concept, the IMx, the future is at the tip of our fingers. Visual appeal, aggressive styling and geared towards a crossover. This space age vehicle focuses on learning a user's preferences for its self-driving technologies. Join Port City Nissan as we jump inside the IMx.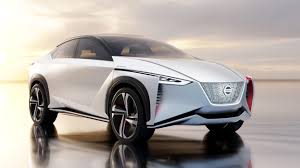 Inspired From Japanese Swords and 'Washi'
The design is truly one of a kind. It was conceived to communicate its electric underpinning on the outside. Washi, or Japanese paper, is made for durability and subtly through a multi-step, painstaking creation process. That as inspiration says a lot about this vehicle.
It's a pretty sweet looking ride. There's sleek, narrow headlights and a full glass roof. It feels even more open thanks to the wood trim inside. So what is Port City Nissan's favorite part? The lack of a B pillar and suicide doors.
Smart Features Galore
The IMx is the future. It comes equipped with Nissan's self-driving ProPILOT system. Driving duties are taken over and you'll be able to relax comfortably thanks to retracting brake, gas pedal and steering wheel. The wraparound display provides passengers and drivers with live information like suggestions about what to do and navigation data.
Cameras are placed throughout and artificial intelligence is used to interpret user commands and anticipate their needs. The intent is to minimize potential distractions and manual controls. Nissan is also working with a partner on an in-vehicle smart assistant, which they've hinted might follow a driver throughout daily life activities as well. Pretty fancy!
Port City Nissan Hopes This Concept Becomes Reality
The IMx concept sounds pretty incredible and the step in the right direction to 'Intelligent Mobility'. Port City Nissan might not have this EV yet but we will keep you updated on this exciting development. In the meantime, Port City Nissan has a wide range of Nissan Leaf options to choose from. Head on down to see us and test drive one today.
Port City Nissan
120 Spaulding Turnpike
Portsmouth, NH 03801
Phone: 877-659-7701
Website: https://www.portcitynissan.com/
Source: https://techcrunch.com/2017/10/25/nissans-imx-concept-electric-concept-car-wants-to-get-to-know-you/?ncid=rss