Children's Museum Cash Or Car Giveaway On Tuesday, May 22nd.
In less than two weeks – Port City Nissan will be partnering once again with The Children's Museum of New Hampshire to give away another vehicle for their annual fundraiser. This years' winner will have the choice to take home $20,000 in cash or a 2018 red Nissan Rogue Sport worth $25,130.
This special event will take place on location at Port City Nissan on Tuesday, May 22, 2018 at 6:00 PM.
Port City Nissan's General Manager, Justin Fecteau, said, "We really love supporting The New Hampshire Children's Museum. It's a great place that allows children to actively engage in the learning of new things. There should be more places like it and it's an honor to contribute to their mission."
Get Your Ticket While You Can
Only 775 total tickets will be made available so your chances of winning are higher! Tickets are $100 and are available to purchase HERE.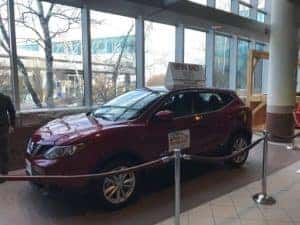 Join Us At The Winner Reveal Event
The big winner will be announced at a free event at Port City Nissan on May 22, 2018 at 6:00 PM. Online tickets can be purchased until 2pm on the day of the reveal. In addition, you won't want to miss out on free wine, beer and pizza, smaller raffle items, live music and commentary by Jadd Naamani from Z107.
Official Rules
This raffle is conducted by the Children's Museum of New Hampshire, a 501(c)(3) organization whose place of business is 6 Washington Street, Dover NH 03820
Applicants must be 18 years old, provide proof of insurance and possess a valid driver's license to win
It is not necessary to be present in order to win
Car or cash are not transferable
Winners are responsible for all taxes, title and registration associated with winning
Winners are responsible for all applicable local, state and federal taxes resulting from the award of these prizes
Raffle tickets are unfortunately not tax deductible
Port City Nissan Is Your One-Stop-Shop
Port City Nissan is your one-stop-shop dealership. Port City Nissan has a wide range of preowned and new vehicles to choose from as well as in-house financing options and the best service department on the Seacoast. Visit www.portcitynissan.com for more information about our Nissan dealer or the New Hampshire Children's Museum annual fundraiser.